Puppy Manners
Matter
by Andy Uhl, Darwin K9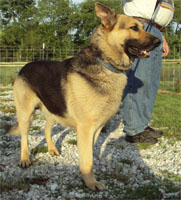 The following will work best in combination with an obedience program of your choice but can help any dog behave better or remain sharp with their obedience skills regardless.
Decide what your dog values most; food, toys, attention, life rewards, etc. and use those things as to reward the behaviors you want/like while ignoring the behaviors you would rather not see again.
A great way to do this is by using a clicker or any other type of marker. By using a clicker, your dog will know the exact thing you are rewarding and therefore will offer that behavior more in the future. Try to always have a clicker handy and/or always use the same word, such as "yes" to mark a behavior you like. Also, try to make your pup work for everything, I always suggest a "no free lunch" type program.
The "no free lunch" or "nothing is for free" program goes like this: Have your dog work for everything. For instance, when your dog comes over to you looking for attention, wait until he/she sits, then click, and give attention. In this scenario the dog worked by sitting and therefore got a reward, the attention.
This works for everything from feeding time to going outside. The more often you practice and promote this way of thinking, the quicker your dog will learn that he/she can get anything by working for it. This also allows your dog to think for themselves and be in more control of making the right decisions on their own as opposed to always waiting for you to tell them what to do.
Just remember to click (or mark) the behavior when it happens and then reward it with whatever action or treat the dog is looking for. Use your imagination, "nothing is for free" can be used for any behavior you would like to reinforce in your dog.
ABOUT THE AUTHOR
by Andy Uhl, Darwin K9 Dogs see her at www.darwink9.com All rights reserved. For more information and helpful resources for dog owners.