Susi's Picks
Dog Videos "Just Having Fun"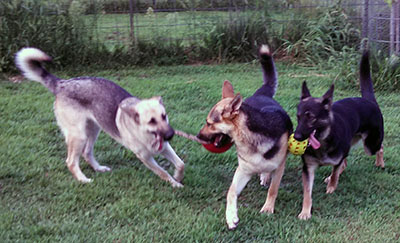 Autumn fun at Sugar Creek Farms!
Friendly game of Tug-O-War at Sugar Creek Farms
If you watch carefully, the adults are all 90# and the pup is 35#. Yet they let her win at tug of war....aren't shepherds amazing, now that's real intelligence!
Fenton has decided to check out some Red Deer at Richmond Park, England. We title this clip "Fenton, Fenton! Jesus Christ !!"
Well you can't blame Fenton, he's just having a little fun at the park. And he may have found his true calling as he drives the entire heard of deer from one end of the park to the other while his owner is screaming "FENTON !!" Priceless.
Sugar Creek Farms
Call us for your board & care appointment 319-470-0381